SMART TABS SX
Recommended Retail Price
£179.99 Inc. VAT
Online Price (inc. VAT)
£176.09
Part Number: MA SX9510-30
COVID 19 Disruption
Description
Questions
Reviews
Delivery
Returns
Age Verification
[COVID19 DISRUPTION NOTICE]
Due to the ongoing and evolving "LOCKDOWN" situation in place since early 2020, we are anticipating a small delay in processing of orders and subsequent shipping due to a reduced workforce, in both our warehouses, and those of our suppliers.
Whilst we are trying our best to continue in a business as usual, we must again close our retail showroom doors temporarily to support the Governments COVID19 Strategy. Throughout this temporary closure we will still be shipping items from our warehouses and those of our suppliers, but it may at times be subject to a small delay.
The quickest way to get an answer to any questions you may have is to email us on customerservices@chasnewensmarine.co.uk Alternatively should you wish to actually speak to a member of our team, please call us on 02087884587 and Choose Option 1.
FREE SHIPPING ON THIS ITEM - UK MAINLAND ONLY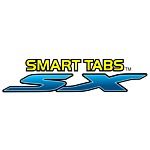 SMART TABS SX – TRIM TABS
The NEW SX series incorporates all of the fully automatic features of our popular SMART TABS, in addition to the rust and corrosion free benefits of molded composite materials. Assembly can be completed in seconds and the installation in a few minutes. The only tools required are a drill with a 3/16″ bit and a phillips screw driver. SMART TABS SX provide un-equaled performance and durability with no maintenance in fresh or salt water. The system can be specifically tuned to maximize the performance of any power boat, and TRACKING RIBS have been added to improve handling at higher speeds.
The patented SMART TABS are a one of a kind trim and stabilizer system that automatically adjusts to the sea conditions, without the need for expensive electric or hydraulic hardware and switches. The system constantly reacts to the water conditions, boat speed, and balance providing a remarkable improvement on any boat.
PERFORMANCE BENEFITS
Smoother and Faster Acceleration – (Great for Skiing)
40% less Bow Rise and 35% Lower On Plane Speed – (Great for Tubing)
More Top Speed and No Porpoising or Chine Walking
Improves Handling and Smoother Ride In Any Water
Improved Fuel Economy (11% +)
Assembly & Installation In MinutesComplete assembly and mounting requires only a drill, a 3/16″ bit, and a phillips screw driver
The Integral design eliminates the need for wrenches
All components "lock" together with self locking clevis pins
NEW Larger System for 21′ to 25′ boats with up to 250 HP now available.
This larger version of our most popular SX Series SMART TABS has 32% more plaining surface to maximize the improvements in handling, ride, and efficiency for the 21′ to 25′ power boats.
The new hinge design incorporates four mounting bosses to insure durability on the larger craft. The SX10512 Series also comes with increased actuator load capacity to match the heavier engine options and larger hull designs.
APPLICATION CHART

BOAT TYPE
BOAT LENGTH
MOTOR SIZE
MOTOR TYPE
SMART TAB SX
Large RIBs, Day Cruisers, Rescue, Deck, Cuddy Cabin
21′ – 25′
175 to 220 HP
2 Stroke Outboard
SX10512-70
150 to 190 HP
4 Stroke Outboard
4 or 6 cyl
Inboard/Outboard
220 to 250 HP
2 Stroke Outboard
SX10512-90
200 to 250 HP
4 Stroke Outboard
8 cyl
Inboard/Outboard
Small Tenders, Roll Up Inflatables, & Ribs
10′, 11′, 12′
8 to 15 HP
2 or 4 Stroke
N/A
Small Tenders, & Ribs
10′, 11′, 12′
20 to 25 HP
2 or 4 Stroke
N/A
Ribs, Flats & Bay, Bow Riders, Fish & Ski
13′, 14′, 15′
30 to 40 HP
2 Stroke
SX9510-30 / SXW9510-30
12′, 13′, 14′
40 to 50 HP
4 Stroke
SX9510-40 / SXW9510-40
14′, 15′, 16′
50 to 80 HP
2 Stroke
Ribs, Flats & Bay, Bow Riders, Day Cruisers, Fish & Ski, Rescue, Deck
15′, 16′, 17'+
60 to 135 HP
4 Stroke
SX9510-60 / SXW9510-60
16′, 17′, 18'+
90 to 150 HP
2 Stroke
 
18′ – 22′
150 to 240 HP
2 or 4 Stroke
SX9510-80 / SXW9510-80
Inboard/Outboard
16′, 17′, 18'+
4 or 6 cyl
Inboard/Outboard
SX9510-60 / SXW9510-60
18′ – 22′
8 cyl
Inboard/Outboard
SX9510-80 / SXW9510-80
Day Cruiser, Rescue, Cuddy Cabin
23′ – 30′
9'10" Max Beam
5,000 Lb. to 6,500 Lb.
N/A
23′ – 30′
9'10" Max Beam
7,000 Lb. to 8,500 Lb.
N/A
Customer Questions & Answers
Have a Question?
Be the first to ask a question about this.
Ask a Question
Delivery
Our Mail Order team ship chandlery, yacht parts and sailing clothing around the world. We try to use the best value couriers available, and we will endeavour to get your products to you as quickly and as cost effectively as possible. 
As with everything automatic, sometimes it might not present you with the best value price, please feel free to contact our helpful team who will endeavour to provide you with our best price for shipping to your address.
UK Standard Delivery
Please use the checkout process to get an accurate shipping quote for your cart, all of our rates are automatically calculated based upon your selections.
As with everything automatic, sometimes it might not present you with the best value price, please feel free to contact our helpful team who will endeavour to provide you with our best price for shipping to your address.
International Delivery
International Delivery is calculated based on a series of complex formulae at checkout and includes options such as UPS International. If you cannot see a rate at checkout, please contact us.
Delivery further information
The delivery charge is automatically added to your order and you will see the total amount you have to pay before you confirm the order. Unfortunately we have to charge carriage but we do attempt to keep it to a minimum where possible
All orders leaving us require a signature, and the delivery could take place any time between 8am and 6pm depending on the courier used. If you are liable to be out, please give an alternative delivery address or type instructions into the notes section as you place your order.
Standard Service; We will aim to dispatch goods within 3 working days. Delivery on the standard service is via courier, will require a signature and we aim to deliver within 5 working days. This service will only arrive on working days.
Courier delivery; The majority of our parcels will be sent via a courier, the bulk of which are with APC Streetwise. Please be aware that they advertise their delivery times as anywhere between 8am - 6pm Monday to Friday. We are not able to dictate to them a time slot. And in most cases a signature will be required.
New! For 2020 – Putney EmbankmentClick & Collect service; New for 2020 finds our first ever collection point on the Putney Embankment. Please select Pick Up at checkout to activate the service
NB; For orders to mainland Europe and Rest of World, the cost for carriage is calculated on order package weight and final destination. The price given at checkout is a guide only and an accurate postage cost will be calculated and invoiced to you if a supplement is required. If you would like to know this figure before despatch please feel free to contact us for a quote. Please be advised that if your order is sent via courier outside of the EU you may need to pay for import/custom taxes after the order has been delivered to you. This is standard procedure by the courier to ensure that your order is delivered to you as soon as possible and not delayed in customs. These charges are solely dependent on your local customs office and the courier, we have no control over these charges. We would kindly suggest contacting your local customs office for more information and advice. Additional charges for customs clearance must be borne by you; unfortunately, we have no control over these charges and cannot predict what they may be. We are unable to reimburse any costs incurred regardless of the circumstances.
ANTIFOUL & PAINT ORDERS; Please be aware that we can only send antifoul & Paint products within GB Mainland. We CANNOT send antifoul & paint outside of GB Mainland. If you have any questions regarding this please feel free to contact our Mail order department.
LIFEJACKETS & CO2 CANNISTERS; Please be aware that we cannot currently send lifejackets with CO2 cannisters included outside of GB Mainland
LIQUIDS & CHEMICALS; Please note we are unable to deliver liquids or chemicals overseas or to highlands and island addresses. We will also have to use a courier service within GB Mainland for liquids or chemicals.
SALE OF KNIVES; In accordance with UK Law (The Offensive Weapons Act 1996), we are unable to sell knives to anyone under 18 years of age. We are unable to send knives to overseas destinations. You must upload a copy of a valid identity document to your order at time of ordering or your order will be cancelled. Knives must be sent on a signature courier service. Valid forms of ID are EU Passports, EU Photocard Driving Licence, MOD Form 90 ID Card, EU Member State National Identity Card, "PASS" ID Cards.
Last Updated 2nd September 2020
Our returns policy lasts 30 days. If 30 days have gone by since your purchase, unfortunately we can't offer you a refund or exchange.
To be eligible for a return, your item must be unused and in the same condition that you received it. It must also be in the original packaging.
To complete your return, we require a receipt or proof of purchase.
Please do not send your purchase back to the manufacturer.
To read our full returns and exchanges policy, please click here.